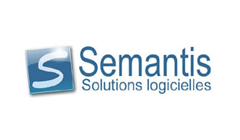 CVTracker
Semantis
SRB = Sin Rango bsoco: bsoco no dispone de suficientes informaciones sobre el software para evaluar.
Ficha " benchmark "
- ventajas e inconvenientes
- posicionamiento tarifario
- nivel de I+D de la aplicación
- calidad del soporte
- número de días de formación
- facilidad de manejo
+ todos los índices de la ficha light
Ficha no disponible
Ficha " light "
- clasificación
- dinamismo comunitario
- evolución del índice
Ficha no disponible
Descripción
CVTracker is a management tool for applications that feeds from reading various CV formats. With a powerful engine of syntactic and semantic analysis, CVTracker will identify in CVs submitted all the information therein to integrate them into its database. Each profile can be restored in a resume format and custom editable. CVTracker also has a vacuum of CV on the Internet by implementing research programmable scripts that allow the formation of free and unrestricted basis consistent profiles. CVTracker is particularly designed for services companies and recruiting agencies.